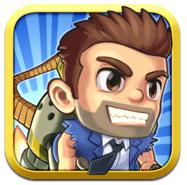 Fresh off the success of Fruit Ninja, Halfbrick Studios has released a new mobile game called Jetpack Joyride for iPhone, iPad and iPod Touch.  The game tries to be a lot of things, and does astonishingly well.  It's one of those rare games that can appeal to many different varieties of gamer.  Depending on who you talk to, you could hear Jetpack Joyride described differently.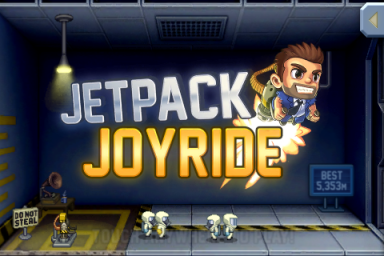 The Schmup Fan:  This game is crazy!  It's a lot like a shoot-em-up, only you're not really shooting at stuff, you're trying to avoid it.  You're this guy named Barry Steakfries who is trying to steal this jetpack from a secret lab.  The coolest thing about the jetpack is that it's actually a machine gun!  You're getting lifted off of the ground by bullets! Another cool thing is that you can actually get into different vehicles; there's a mech, a motorcycle, a freaky transporter, a gravity suit, and even a giant dragon named "Cuddles" that breathes fire!   It's really fast-paced (especially as you get further in the level) and the level changes slightly with each playthrough so that you can't memorize the layout.  I'm addicted!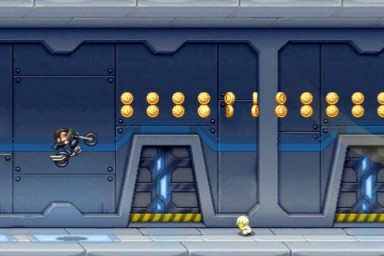 The Physics-Based Distance Game Fan: I swear I've played every "throw/chuck something for distance" flash game on the web; it started with the one where a polar bear tosses penguins, evolved into Santa and his rocket-powered sleigh, and everything in between.  This game is almost another one of those, but way different at the same time.  You're still trying to get as far as you possibly can; your total score is measured in distance.  The difference is that instead of just throwing your character out there based on angles and velocity, you're actually controlling your character while he flies a jetpack.  It's nothing super complicated (you know I don't like games that are too complicated); you literally tap the screen to fire your jetpack, and let go to cut it off.  You're trying to collect coins and slot tokens, and avoid the zappers and missiles.  When you die, there's a little slot machine where you can win more coins, bombs that blast your guy's dead body even further (it seriously always makes me chuckle a little), and other little power-ups like head starts and whatnot.  I'm addicted.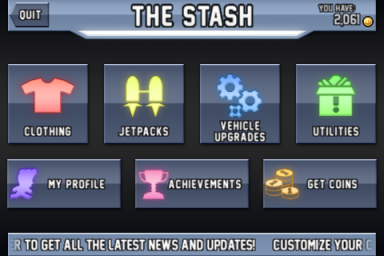 The RPG Fan: You know that as long as a game has missions, lets me level up, and also lets me buy power-ups and custom items… I'm there.  On the surface, this game seems simple; use the jetpack to avoid the obstacles, get as far in the laboratory as you can.  However, there's more to it than that.  At the beginning of the game, you're given these objectives that you're trying to accomplish in the process of your escape.  It can be easy like just making it to a certain distance, or really hard like having so many close calls with a missile.  (Seriously, the thing has to be right in your face to count as a near-miss; pretty intense.)  As you complete these tasks, you earn stars, and as you earn stars you rank up. For every rank you achieve you earn coins, which allows you to buy things like different jetpacks, other outfits, power-ups, and upgrades to the in-game vehicles.  When you've reached the last rank, it works a lot like Call of Duty's prestige system – you can trade in your rank to start over, and earn a unique medal each time you do so.  And on top of it all, there are iOS Gamecenter achievements!  I'm totally addicted.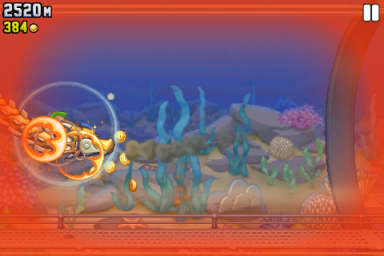 Possible schizophrenia aside; I'm totally addicted.  It's a light-hearted, action-packed game with a great sense of humor.
Jetpack Joyride is absolutely worth the 99 cents they're charging for it, and there are promises of updates to add even more.  Go grab it now on the App Store, and have a blast.
—
Jetpack Joyride
Platforms: iOS; $0.99
Developer: Halfbrick Studios
Publisher: Halfbrick Studios
Release date: September 1st, 2011