This has been an exciting week for games and gamers, and sometimes, it's good to bring those bits of info to one place for a little perspective.
First things first: The Avengers has made a lot of money (almost $700 million worldwide at time of posting). Aaaaand the game is… Where? Apparently THQ Brisbane (one of the studios closed by THQ) was working on the movie tie-in game before closing, and now Ubisoft has picked up the rights for the game, reported to have Kinect functionality. Am I excited about a Kinect Avengers game? Well, how well was Star Wars Kinect received? Exactly… I'm pretty bummed about this, and not just because I had such a freaking good time watching the movie, but because some of the leaked screenshots of the cancelled game look pretty cool: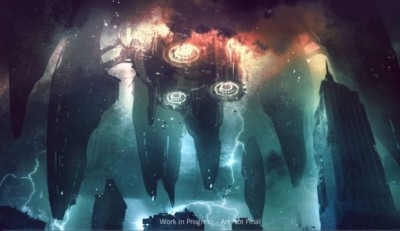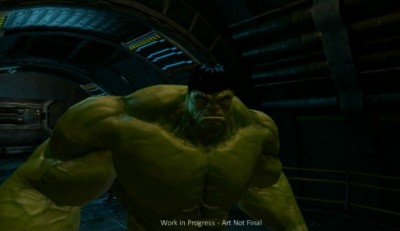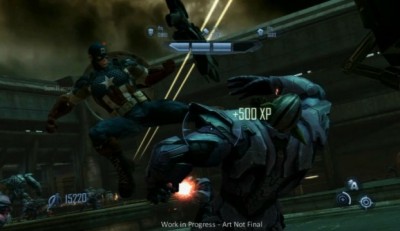 Mass Effect 3: Bioware announced that PS3 users will finally be able to enjoy the fun weekend operations that PC and Xbox users have been getting off on for the past few weeks. If you've been waiting to jump into the fray, this looks like a great weekend to start, with the goals as follows:
Allied Goal: Kill 3,000,000 banshees
Squad Goal: Survive until a full extraction on any map against any enemy on gold difficulty.

Successful completion of the allied goal will grant all players a Victory Pack.
Successful completion of the squad goal will grant all squadmates a Commendation Pack.
Bioware also released this infographic on some of the gamer stats from the Mass Effect 3 multiplayer: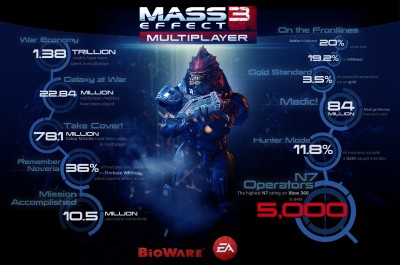 Borderlands 2: IGN's Youtube channel has released a couple of gameplay videos, one featuring the Gunzerker, the other one spotlighting the Siren class.
The Gunzerker:
The Siren:
Batman: Arkham City: If you've been looking for a reason to dive back into Rocksteady's near-perfect Arkham City, look no further than Harley's Revenge DLC, releasing at the end of the month (May 29 to be precise). Focusing on the events at the end of the main story, you'll play as Robin as he goes in search of Batman, who's gone missing after looking for some kidnapped cops. If you haven't bought the game yet, you can wait for the Game of the Year edition, which will have the DLC, too.
Okay, enough of space operas, mutants,  and superheros. What else has been going on?
Downloadable/iOS/Casual Games:
Minecraft on XBLA was a ridiculous success… After breaking Trials Evoluion's XBLA sales records, reports have come out that Mojang's Lego-voxel-zombie-cave-game sold more than 400,000 units in one day. For $20 a pop no less… Crazy. With Minecraft's 1 million mobile sales and 5 million PC sales, it's reasonable to say that the game has been a success.
Jetpack Joyride: okay, so this hits close to home, as I think this is one of the more fun free-to-play games that I've been obsessed with lately. Winner of Gamasutra's 2011 mobile game of the year award, the game is fantastic. It has also been downloaded 14 million times. Seriously.  Now Halfbrick's little masterpiece is heading to Facebook, with all of the purchase options as the original, now with Facebook integration and leaderboards.
Angry Birds developer Rovio recently announced their one billionth download of Angry Birds-related games, which is a serious number. Soon afterward, they talked about their new game, Amazing Alex, which looks like a Rube Goldberg style game, and will probably spawn a collection of stuffed animals and board games. Not that there's anything wrong with that.
The digital-delivery-of-games section of the world got some interesting news this week, too.
Steam is giving away Midnight Club 2 to anyone who joins the Rockstar Games Steam Community. If you join the group by May 15, Steam will deliver a non-giftable version of MC2 to your account. For free. What are you waiting for?
A rumor has come out that Gamestop will be selling Steam download cards in their store, which is kind of funny/sad/ironic. I remember calling my local store a couple of years ago, asking them if they carried Steam cards, and the dude laughed, saying that they had their own digital distribution platform, and it wouldn't be good business to sell those kinds of things there. Well, we'll see… We'll see.
GoG, one of the best places to get old games, released Quest for Glory, 1-5, for $10. If you're unlucky enough to have never enjoyed them back in the day, go there now and get your classic-gaming-fix. Great stuff.
Blizzard/Activision released some financial info this week, announcing net revenues of more than 1.15 billion dollars. That sounds crazy, but it actually is a little less than last year. Perhaps WoW has been shedding accounts, similar to SW:ToR? Nope, apparently by all accounts, Warcraft has stabilized at around 10 million subscribers, which is a lot of people. In other non-WoW-related Blizzard news, Diablo III broke Amazon's preorder sales records (passing Cataclysm and Starcraft II ironically enough). Additionally, Joystiq announced that more than 2 million gamers participated in their recent beta-test. That's a shitload of clicking.
Rounding out some of the other news pieces from this week, we see that Ghost Recon has announced some DLC before the freaking game even is released, Microsoft might bring Kinect-powered internet browsing to 360s soon, and Bioshock Infinite has been delayed to 2013.
Did I miss anything? Well, anything important? Let me know down below.